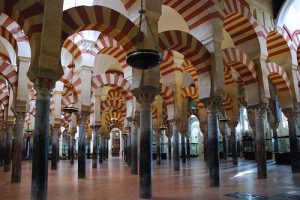 The Mosque Cathedral of Cordoba is one of the most important monuments of the Spanish-Muslim architecture. It was the third biggest mosque in the world, overshadowed only by the Casablanca and Mecca ones but its artistic importance, from the very beginning, was well-known everywhere.
The ancient Mosque of Cordoba, a former Christian-Visigoth basilica, turned in the 13th century into the current Santa Maria de Cordova Cathedral. To get to this Christian shrine will not be difficult. First you need to Spain rent a car and forget about all difficulties with the movement. It is the key monument in Cordova, and also embraces this importance in the whole Andalusian architecture, together with the Alhambra from Granada.
It was built in the 8th century, upon a Visigoth basilica known as San Vicente. During the Caliphate it witnessed some enlargement projects, and after the Christian conquest in 1236 it was turned into a cathedral, and because of that, several modifications took place.
The Puerta del Perdon (Door of the Forgiveness) provides access to the mosque, which has a Mudejar style (1377), overlooking rows of orange and palm trees, fountains and horseshoe arches that surround the place.
The door of Las Palmas leads to the interior part of the mosque where there is a "forest" which houses 1300 marble columns, jasper and granite upon which 365 two-color horseshoe arches rest.
The mihrab is a jewel made of marble, stucco and Byzantine mosaics magnificently colored on gold and bronze made backs, in addition to copper and silver. Although it should have been placed by facing the Mecca, it faces the south. According to a legend, it was an Abderraman's will to build the place overlooking the river because he felt as if he were still in Damascus and not in exile.
This is one of the hypotheses, but today there is a more recognized theory which tells us that the main nave of the mosque continues the orientation of the main street (cardo) of the ancient Roman Cordoba (Patrician Cologne), as it has been witnessed in the archaeological excavations that have taken place in the city.
The Treasure of the Cathedral is in the "Chapel of Sta. Teresa" and attached rooms. Within this chapel, the "Tomb of the Cardinal Salazar y Gongora "(an authentic figure from Cordova, during the 18th century) is outstanding.
It underwent numerous enlargements by commission of four Omeya leaders; this column-based building which was created for the prayer and delight is, undoubtedly, a unique piece belonging to either the Islamic or Christian world.